Joseph Alban 1816
1 Joseph Alban b:1816, Baltimore County*, Md
+ Susan Shaffer
2 Ann Alban b:1841 Md
2 William A Alban b:1843 Md
+ Sarah b:1842
2 John wesley Alban b:Apr 1845 Md.
+ Elizabeth Ann Hare b:1829
2 George W Alban b:1848 Md
+ Emaline Baublitz
2 Samuel R Alban b:May 1852 Md
+ Mary E Stiffler b:Apr 1855 Md
2 Mitchell Alban b:1854 Md
*1850 Census District 5 Baltimore County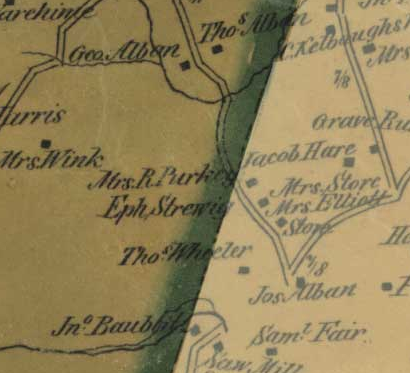 According to George's will, he left his real estate to his son Joseph. On the map shown here (Carroll County 1862) Joseph is shown living in neighboring county of Baltimore at the intersection of Upper Beckleysville Road and Brickstore Road in what is now Albantown. Brother George is located less than a mile north on Millerstation Road, Carroll county just above Big Grave Run.
In 1880 George W and Emaline(Baublitz)) are living in the 5th District of Baltimore co. George is a laborer. Father Joseph is living with them and widowed. Noah W lives close by.
George W lists Upper Beckleysville road on his 1920 Census record. A later land ownership map verifies the location.
Samuel R and family can be found in the 1900 census in Warrentown. He is a night watchman. Samuel R's widow Mary E and son Harvey Preston can be found in the 1930 census living on Beckleysville road. Mary E at 74 owns her home and is farming.
See: Source Material for Historical Maps of Land Tracts.
Descendants of:
William A b:1843
+ Sarah
See Zachariah Alban
John Wesley b:1845
+ Elizabeth Ann Hare
C Virginia b:ca.1867
Florence E b:ca.1868
George W b:1848
+ Emaline Baublitz
Virginia b:ca.1872
Mary Idella b:1874
Ida b:ca.1877
Clinton Ellsworth b:1883
Susan B b:1885
Samuel R b:1852
+ Mary E Stiffler
Emra? b:1875
Carrie Estella b:1877
Grace M b:1880
Harvey Preston b:1883
Sadie E b:1885
⇐George E Alban 1810
George Alban 1776⇒